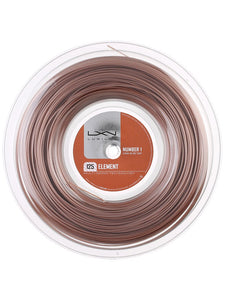 Element 16L is a slightly thinner and softer version of one of the softest strings in Luxilon's line-up. With Element you'll get exceptional precision and spin without the high level of shock that comes with a traditional control string. Like its predecessors (M2 Pro and M2 Plus), Element features 
Multi-Mono Technology
, providing you with a slightly more flexible feel than other Luxilon monofilaments. Although this string definitely works best if you have long, fast strokes, our playtest team was also impressed with its performance on touch shots (especially when compared to more traditional polyesters which tend to feel overly stiff and unresponsive at slow stroke speeds). 
All in all, this string is a great option for you intermediate through advanced players seeking a durable control string with above average feel and comfort.
 Dare we say that it is the missing element to your game?
Gauge:

 

16L/1.25mm
Composition:

 

Co-polymer Monofilament w/Multi-Mono Technology
Color:

 

Bronze